The winter of December 2022 – March 2023 so far has been very mild. We have had some record temperatures for February with one day near 64 degrees. Snowfall amounts for South Eastern Massachusetts seem to be steadily on the decline. The ski resorts have been suffering while the golf courses have been making out quite well.
This winter we have received quite a bit of rainfall, but I am not sure that the benefits of this rainfall will last. A slow snow melt can usually help keep things from drying up into the late spring early summer. Last season was very dry and people relied heavily on their sprinkler systems to keep their lawns from browning out. Below are a few photos of things we found interesting while doing some of our irrigation work.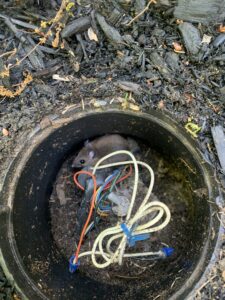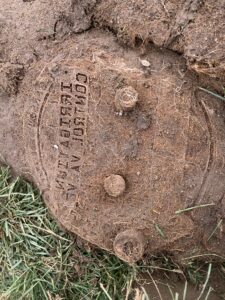 Irrigation valve boxes provide a nice spot for the mice to nest. These mice unfortunately like to chew on the insulation of the valve wires which can keep the valve from working properly. We have found many of these nests over the years.
Pictured (above right) is the imprint of a valve box cover that has been buried for years. Amazing how clear the lettering is.
What we need to do is learn how to train our friends (pictured below) to patrol the many valve boxes that are out there.