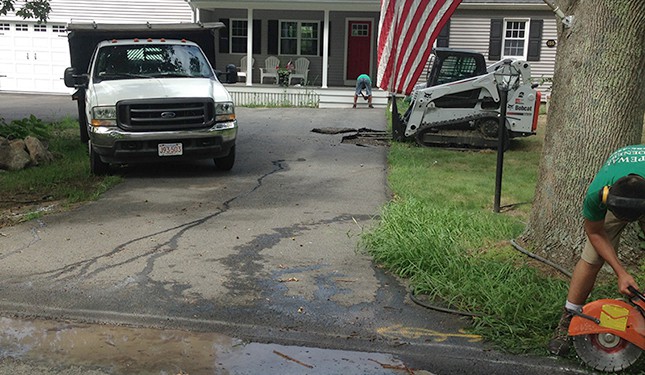 Scapeway Gardeners knows that every property is unique and each client has their own set of expectations. Scapeway Gardeners will look at how we may be limited or helped by the natural landscape and develop a landscape plan that is right for your particular project.
Creative Plantings
We take pride in trying to find the right plant for the right location. You may need a hedge to block a particular view? You may need some shade trees? You may want color all year long? Maybe you're looking for low maintenance? We can develop a planting design to fit your needs.
Site Analysis / Design
Before work is started, we take a good look to see how we may be limited or helped by what the natural landscape has to offer. Then listening to your needs we are more often than not able to create a landscape that is the right fit for that space.
Drainage
Water runoff from downspouts can cause a lot of damage. We can neatly connect to downspouts and carry that water underground to daylight or into a dry well. Either way runoff should be controlled at the start of a project.
Grading
Machine grading is critical to keep surface water running away from foundations or puddling up. This also allows for a nice smooth lawn mowing experience.
Overseed / Seed / Sod Lawns
If you're old lawn has good soil and just needs to be rejuvenated? We can overseed. If you're sick of your old bumpy thin lawn? We can re-grade, spread loam and seed. If you want a beautiful lawn right away? We can supply topsoil, grade and sod.
Parking Areas
Need to extend a driveway, or need an extra parking space for that boat or camper? Processed bluestone is a less expensive alternative to paving.
Next
Previous
We recently did a lot of work on the exterior of our home and wanted to finish off the project with a stone patio. Jim was highly recommended by a friend, he helped us pick out some materials and we exchanged ideas. He created a design for the paver patio and fit in two granite steps that lead to the back yard. He finished with two beautiful walls, one to retain the patio space and another along our driveway. The finished product is awesome!
P & LA
West Bridgewater, MA
We hired Scapeway because we were looking to add a nicer front walk to our home. We were not exactly sure what we wanted to do. Jim was able to give us some guidance and what we ended up with was absolutely beautiful. In all, Jim installed a Y shape walk, new stone covered stairs, stone edging around the entire house and pool, crushed stone around the pool, great new mulch, and he was even able to level out a piece of the back yard that was bugging us. The work that Jim did was miles ahead of what I could have envisioned for our home. His work was done quickly, efficiently and the quality of the products used, and of the workmanship itself was incredible.
T & L
West Bridgewater, MA
Jim Nolan enabled us to take love and loss and create a lasting memorial garden tribute to our daughter in our backyard, totally visible from our kitchen window. He took our guidelines and priorities and created a tranquil but whimsical spot that we decorate with the seasons. He recommended high quality and minimum maintenance products for the wall and the pavers that create the base of the space. Jim is extremely easy to work with, as well as dependable with great attention to detail. Highly recommend his services.
Tom & Diane
We have had Jim Nolan and his company for numerous needs at our home in West Bridgewater. He has helped design and install a patio around our pool as well as reshaping our lawn after septic installation. We have referred him to our friends for their walkway and garden design needs, and they're still our friends. Jim is professional, articulate, and has integrity above and beyond normal contractors. We are extremely pleased with the end result of all projects and have no concerns to recommending him for your project. He is a pleasure to deal with and performs above and beyond including helping homeowners see the errors in their thoughts. J & B -
J & B
West Bridgewater, MA