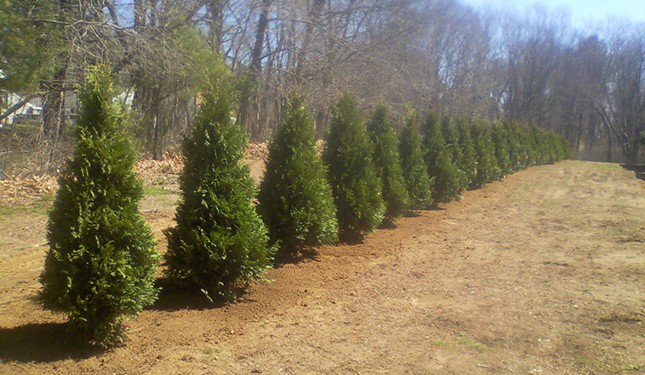 Why is it important to have a healthy lawn? There are quite a few reasons. One of the most important reasons is that they are fun to run on without shoes and protect you when you fall. Kidding aside, did you know a 50 x 50 feet of lawn area produce enough oxygen for a family of four while absorbing carbon dioxide. Healthy lawns trap dust and pollutants that are released into our atmosphere; absorb rainfall and help with erosion control; and provide natural air conditioning and are said to increase your property value up to 20%. These are just a few reasons.
Please read some of the services we offer below and maybe we can help you achieve a healthier lawn.
Weekly Lawn Mowing (now accepting new accounts)
This is an important part of our services that will keep the clients property looking well maintained throughout the season.
Free Property Analysis
Let us look, after all it's free. Maybe we will be able to make a few suggestions or come up with a seasonal plan to enhance the appearance of your property.
Spring Clean-up
There are different levels of work that can be involved in a spring clean up. You let us know what you're interested in having done and we will be able to accommodate your needs.
Fall Clean-Up
We can stay ahead of the clean up by working at your property every other week while the leaves are falling, or just do one final clean up towards the end of the season.
Fertilization Programs
Turf fertilization contributes greatly to lawn color, density, uniformity and growth. The major goal of these programs is to produce attractive healthy turf. We can customize a program to fit your needs.
Weed, Insect, and Disease Control
We have a basic five step program that will address most of your lawn maintenance needs. Sometimes a lawn may need some special applications due to harder to control weeds, insects or disease. We are licensed and able to handle any of these issues.
Edging and Mulching
Cobblestone comes in a variety of colors and when installed with cement is a more permanent type of edge restraint. If not cobblestone, we still hand dig our edges and are able to install whatever color mulch or stone you may desire for your planting beds.
Pruning
There are a host of reasons to prune. Maybe there has been winter damage, maybe you need to prune back some new growth, maybe there are limbs near wires, etc…Pruning can be done with little damage to the plant if done correctly.
Dethatching
If your lawn is green on top but brown underneath or if it looks dead and scalped when you mow, it may be time to dethatch. A layer of thatch prevents moisture, oxygen and nutrients from reaching the soil. Thatch layers can also harbor disease and insects.
Aeration
As lawns age or sustain heavy use from various activities soil compaction can result. Aeration will increase the activity of microorganisms that decompose thatch, increase nutrient movement into the soil, and improve water infiltration, fertilizer uptake and rooting.
Snow Plowing and Sanding (now accepting new accounts)
We have to stay busy these months too. We operate around the clock on call to take care of any commercial snowplowing or sanding needs.
Next
Previous
We recently did a lot of work on the exterior of our home and wanted to finish off the project with a stone patio. Jim was highly recommended by a friend, he helped us pick out some materials and we exchanged ideas. He created a design for the paver patio and fit in two granite steps that lead to the back yard. He finished with two beautiful walls, one to retain the patio space and another along our driveway. The finished product is awesome!
P & LA
West Bridgewater, MA
We hired Scapeway because we were looking to add a nicer front walk to our home. We were not exactly sure what we wanted to do. Jim was able to give us some guidance and what we ended up with was absolutely beautiful. In all, Jim installed a Y shape walk, new stone covered stairs, stone edging around the entire house and pool, crushed stone around the pool, great new mulch, and he was even able to level out a piece of the back yard that was bugging us. The work that Jim did was miles ahead of what I could have envisioned for our home. His work was done quickly, efficiently and the quality of the products used, and of the workmanship itself was incredible.
T & L
West Bridgewater, MA
Jim Nolan enabled us to take love and loss and create a lasting memorial garden tribute to our daughter in our backyard, totally visible from our kitchen window. He took our guidelines and priorities and created a tranquil but whimsical spot that we decorate with the seasons. He recommended high quality and minimum maintenance products for the wall and the pavers that create the base of the space. Jim is extremely easy to work with, as well as dependable with great attention to detail. Highly recommend his services.
Tom & Diane
We have had Jim Nolan and his company for numerous needs at our home in West Bridgewater. He has helped design and install a patio around our pool as well as reshaping our lawn after septic installation. We have referred him to our friends for their walkway and garden design needs, and they're still our friends. Jim is professional, articulate, and has integrity above and beyond normal contractors. We are extremely pleased with the end result of all projects and have no concerns to recommending him for your project. He is a pleasure to deal with and performs above and beyond including helping homeowners see the errors in their thoughts. J & B -
J & B
West Bridgewater, MA