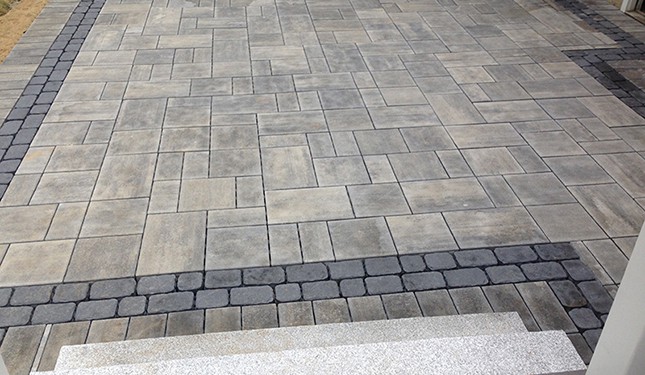 A new walkway makes a great impression upon entering a home. Need more space to gather or cook on the grill? How about a patio? There are so many different, materials, colors, shapes and patterns to choose from. Take your patio space to the next level and install an outdoor living area with sinks, refrigerators, counter tops, built in grills and fire pit. These spaces are really catching on and provide a fun, functional, appealing place to spend some time with friends and family.
Retaining Walls — Stone/Segmented Block Walls/Timber Walls 

You pick the materials and we will build the wall!
Stone Veneer
If you have a concrete foundation, wall, set of steps, or post, we can cover them with a stone veneer. This will enhance the appearance of your home and increase the property value.
Site Analysis / Design 

Before work is started, we take a good look to see how we may be limited or helped by what the natural landscape has to offer. Then listening to your needs we are more often than not able to create a landscape that is the right fit for that space.
Landscape Lighting 

LED lighting and low-voltage lighting will extend the use of your patio areas at nighttime when it would normally be too dark. You can accent statuary, plant materials, house facades, moonlight from treetops, etc. Lighting designed properly is one of the most eye-catching services in today's landscaping.
Freestanding Walls and Pillars
These walls are not weight bearing or structural in design. They are strictly decorative and provide a specific function. Some examples include: an entryway wall –a type of wall that may run on both sides of your driveway and could be accented with end pillars, or a sitting wall–a type of wall that may be built along the border of an existing patio to provide more seating area.
Spillways/Fountains
These water features can stand alone or be built into a hardscape project. However you decide to use these water features, combine them with lighting and they really stand out and make a statement.
Fire Pits
Fire pits make a great spot for people to gather and relax. Certain soft woods that you burn like Pine will provide a crackling noise while other harder woods like Cherry will send out a pleasant aroma. The most critical decision is where to locate your fire pit. It should be at least ten feet away from any structure and there should be ample room for people to gather. Fire pits when built correctly with the right materials can become an attractive addition to your landscape.
Next
Previous
We recently did a lot of work on the exterior of our home and wanted to finish off the project with a stone patio. Jim was highly recommended by a friend, he helped us pick out some materials and we exchanged ideas. He created a design for the paver patio and fit in two granite steps that lead to the back yard. He finished with two beautiful walls, one to retain the patio space and another along our driveway. The finished product is awesome!
P & LA
West Bridgewater, MA
We hired Scapeway because we were looking to add a nicer front walk to our home. We were not exactly sure what we wanted to do. Jim was able to give us some guidance and what we ended up with was absolutely beautiful. In all, Jim installed a Y shape walk, new stone covered stairs, stone edging around the entire house and pool, crushed stone around the pool, great new mulch, and he was even able to level out a piece of the back yard that was bugging us. The work that Jim did was miles ahead of what I could have envisioned for our home. His work was done quickly, efficiently and the quality of the products used, and of the workmanship itself was incredible.
T & L
West Bridgewater, MA
Jim Nolan enabled us to take love and loss and create a lasting memorial garden tribute to our daughter in our backyard, totally visible from our kitchen window. He took our guidelines and priorities and created a tranquil but whimsical spot that we decorate with the seasons. He recommended high quality and minimum maintenance products for the wall and the pavers that create the base of the space. Jim is extremely easy to work with, as well as dependable with great attention to detail. Highly recommend his services.
Tom & Diane
We have had Jim Nolan and his company for numerous needs at our home in West Bridgewater. He has helped design and install a patio around our pool as well as reshaping our lawn after septic installation. We have referred him to our friends for their walkway and garden design needs, and they're still our friends. Jim is professional, articulate, and has integrity above and beyond normal contractors. We are extremely pleased with the end result of all projects and have no concerns to recommending him for your project. He is a pleasure to deal with and performs above and beyond including helping homeowners see the errors in their thoughts. J & B -
J & B
West Bridgewater, MA